ST JOSEPH VOCATIONAL TRAINING CENTRE
A Brief Historical Background
St. Joseph Vocational Training Centre is among the VET providers in the Northern Zone, located at Jiweni Street, Bomang'ombe in Hai District, Kilimanjaro Region.
St. Joseph VTC is owned by Apostolic Life Community of Priests in the Opus Spiritus Sancti (ALCP/OSS). This is a Missionary Society under the Catholic Church whose Mother House is at  Sabuko - Sanya Juu and the General Office is at Soweto – Moshi.
Formally it was known as Karanzi VTC and was allocated at Karanzi in Siha District then as the demand increases it was decided shift it to Bomang'ombe in Hai District to be nearby the main road to Arusha which is more busy in order to attract customers (mainly students) and also more repairs is granted to sustain the teaching operations. Its construction began in 2006. It was officially inaugurated by the Honorable Bishop of Catholic Church the Most Reverend Bishop Isaac Amani in 2008.
St. Joseph VTC started conducting two trainings from 2008 – 2011, Motor Vehicle Mechanics & Tailoring courses. From 2012 to date we are having four full time trainings, namely:-
Motor vehicle Mechanics (MVM L I – III).
Secretarial & Computer course (SC L I – III)
Auto Electrical (AE L I –II) and
Refrigeration & Air Conditioning (RAC L I – III).
These two courses (AE and RAC) were newly established in 2016, but we do provide training  up to level III
Formally we had tailoring course but enrolment declined proving to be too
uneconomical and instead the board of directors decided to change to Auto Electrical occupation.
All level one tailoring trainees were transferred to another neighboring Vocational Training Centre conducting the same course in June 2015.
Our Centre got a Preliminary Registration number VET/KLM/PR/2012/009 In 2012. After meeting the VETA laid out Standards and regulations, the Centre Programmes were accredited and was awarded Full Registration number VET/KLM/FR/2018/115 In 2018.
The centre has qualified teaching staff for all trades who are able to improve the quality of skills requirement of the labor market for both formal and informal sectors.
The programmes are conducted in Competence Based Education and Training (CBET) mode and assessment in Competence Based Assessment (CBA) which enables the trainee to continue for further studies recognized by National Counsil for Technical Education (NACTE) depending on trainee's performance.
The training format includes Core Subjects which are Theory and Practical and Supporting Subjects namely; Life Skills, Mathematics, English, and commnication skills, Entrepreneurship Education and Training, Engineering Science and Technical Drawing.
In Secrtarial and Computer course,French language is included. Trainnees are awarded internal Certificate after graduating Level Three.
Trainee with performance of  60% and above qualifies to sit for VETA National CBA Examination.
Since its establishment, every year the number of students have been increasing which gives a new hope for the future. This Year 2020 the Centre has enroled 204 trainees , among them 33 are female and 171 male.
The Centre is Growing and expecting in near future to introduce new programmes aiming to produce enough Labor force for National Industrialization, as our country has grown economically and so we need to produce competent men and women ready to face the challenges ahead.
The chart below shows the enrolment data as from 2009 up to year 2020.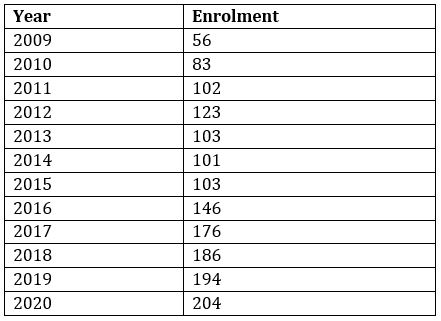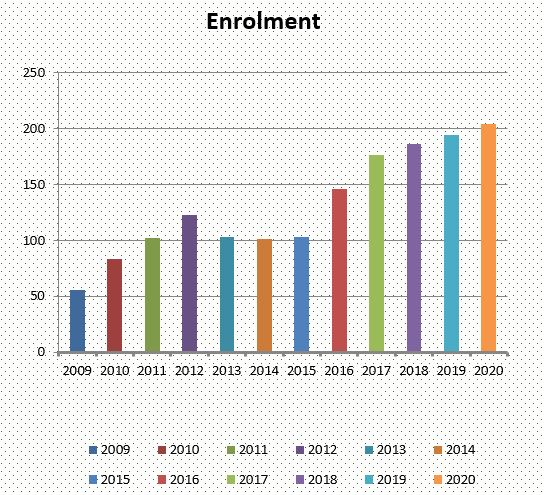 The centre also does provide short course of Computer (three months) and Driving (one month) Short Course of Computer and Driving Graduates as from 2009 – 2019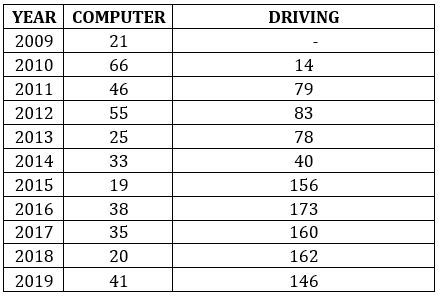 The center management concludes by thanking our Almighty God who anables centre benefactor financially support training and infrastructure,  of which in a great deal have made our centre to produce the labor force to the standard required for the developing poor growing Tanzania Nation from 2008 to date.